Mission
Leading the R community forwards in widening the participation of women and other under-represented groups.
Find out more about the task force.
Upcoming Events
2019/05/25 First ever R conference in East Africa: SatRdays Kampala 2019 Lend your support to this pathbreaking conference by contributing to SatRdays Kampala's Indiegogo campaign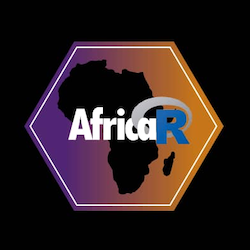 News
For more details on past workshops, see the Edu section.
2019-04-06, Dublin Isabella Gollini, with Bruna Wundervald, Chiara Cotroneo, and Jo Niec, teach "Develop Packages in R"
2019-03-30, Brisbane Di Cook and a team of brilliant women teach "R Coding Workshop for Year 11 Girls"
2019-02-23, Chicago Stephanie Kirmer and Angela Li teach "Women's Package Development Workshop", jointed hosted with R-Ladies Chicago
2018-10-27, New York City Emily Dodwell and Joyce Robbins lead "Data Science in R: Coding Workshop for 11th and 12th Grade Girls"
2018-07-30, Vancouver Di Cook serves as panelist on late breaking session at JSM2018, Addressing Sexual Misconduct in the Statistics Community Organizer blog post
2018-06-23, Cardiff, Wales Heather Turner teaches "Upgrade Your Workflow with a Custom Package" at Cardiff satRday
2018-05-24, Melbourne Earo Wang leads "Package Development Workshop for Women: Everything you need to know to create your own R package" at R Ladies Melbourne slides, code
2018-05-14, Budapest Package Development Workshop for Women at eRum 2018